Big mistake! It is one thing to rob a bank. It is quite another thing to kill a police officer. Look out idiot, you are now on the most wanted list. The FBI is going all out to catch the idiot who shot officer Gale Stauffer.
Tupelo, Miss., police officer
Stauffer was only 38 when he was slain by a bank robber trying to flee the scene. Another officer,
Joseph Maher
, 26, was also critically wounded.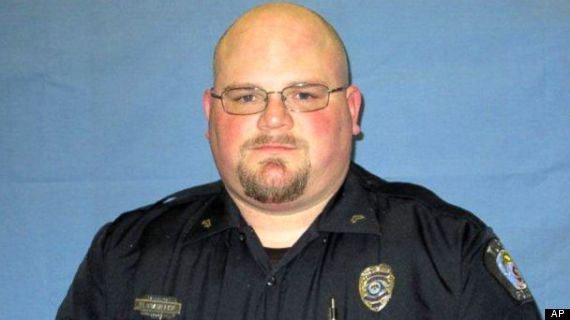 Officer Gale Stauffer
A suspect seen in a surveillance video from BancorpSouth bank in Tupelo was wearing khaki or cargo-style pants. His white Converse tennis shoes, a long-sleeved jacket and a blue ski mask stand out on video. The get-away vehicle appears to be a charcoal-colored, medium-sized sedan. The suspect is pictured above in the mask.
$160.000 in reward money was offered by authorities for information leading to the killer's arrest I suspect bounty hunters and relatives in need of some cash will be happy to join in the hunt!
Update:
Mario Edward Garnett
, 40, once threatened the president in 2010. He was suspected of carrying out the deadly Mississippi bank robbery. He was killed in a shootout with police during a Phoenix bank robbery at a Compass Bank branch Saturday morning.